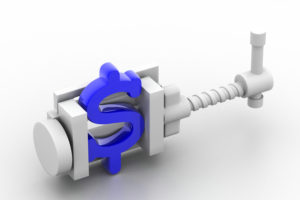 Producing special events feels like a bit of a gamble. You outlay time, money and resources in hopes the event will bring in revenue and engage new supporters. There's no guarantee you will succeed, so every dollar feels risky.
Common wisdom tells us that there is no way around dumping a pile of cash on special events. Well, common wisdom is wrong.
Happily, the reality is that creativity and resourcefulness go a long way towards shaving off event-related expenses. In fact, I find that the most engaging and appreciated aspects of fundraising events cost very little indeed.
Here are my top 5 tips for producing special events on a tight budget.
 

1. Choose your venue wisely:
Thinking you'll save money by hosting your event at a private home? Think again! Despite getting to use the property for free, the rental and catering costs associated with using a private home can be astronomical. You'll also need to pay for valet, generators, lighting and cleanup crews. Private estates are definitely a draw when selling tickets, but really do some number crunching before saying "yes" to using someone's home.
Hotels and country clubs likewise have costs that can jack up your overhead. These venues generally charge room fees, have services charges as high as 25%, and can sock you with overtime costs for set up and breakdown.
Weigh your venue options and consult with local event planners to get their feedback on venue options that fit within your budget.
2.  Take advantage of community resources:
Almost every city has community colleges, trade schools and high schools that can provide a treasure trove of resources. Need music for your event? Get the incredibly talented high school jazz band or a virtuoso young violinist to perform for no cost. Need help with online promotion and marketing? There are high school students in need of community service hours who can whip up a social media campaign for you in no time. Short of volunteers? Contact local churches and corporations who have organized volunteer groups just looking for opportunities to participate.
 3. Cut printing costs:
Too many nonprofits spend a fortune on invitations, flyers, posters and programs. They don't realize that just a stone's throw away are resources that can save them a bundle on printing costs. Did you know that most colleges have their own print shops whose presses lay idle for portions of each month? Give those shop managers a call and negotiate a rate which makes sense for both of you. Perhaps consider an online printer who can process your printing orders at much lower cost than brick-and-mortar sources. You can also offer in-kind sponsorships to printers who will do the printing at no cost in order to secure logo placement at your event and in your collateral materials.
Here's a little secret – I print all my posters online at a fraction of the price charged by local chains, and they are mailed to my offices. If time is tight, I use Walgreen's one-hour online poster ordering and have beautiful inexpensive posters in a jiffy.
 4. Use creativity, not dollars, to engage your guests:
Big organizations have the bucks to hire top-tier talent and spend boatloads on decor and lighting. The glitz may be impressive, but does it touch the hearts of your guests? The answer is an unequivocal "no".
Look beyond hiring expensive vendors and using high-priced décor to impress your guests. Placing heartfelt thank you notes, written by those served by your organization, at each place setting really makes an impact. Large posters displayed during cocktail time can tell stories of individuals whose lives you have transformed. Teens greeting and thanking guests as they arrive really makes a connection for your mentoring program.
These special touches cost next to nothing, but they will be far more impressive to your guests than an over-the-top floral centerpiece.
 

5. Monetize like crazy:



Monetizing your event is more than just selling tickets and sponsorships.
In terms of sponsorships, offering the old same boring levels means you are losing out on revenue. Don't fall into the "silver-gold-platinum" sponsorship rut! Get creative and offer unique and exclusive opportunities.
Some successful creative sponsorship ideas:
Offer up a sponsorship that includes a stand-alone bar with a signature drink branded with their corporate logo
Bring in a sponsor that hosts an artisan cigar roller with logo cigar bands.
Forgo typical swag bags filled with a slew of small throw-away items, and offer one sponsorship for placement of a beautifully gift-wrapped product sample at VIP guests' seats
Exclusivity is key to these types of sponsorships, so only offer one of each unique opportunity.
Exclusivity can also add value to ticket sales. You can raise more money by offering exclusive VIP experience for a select number of tables. These tables sell for a premium price but can offer upgraded wines and treats for the VIP guests. These tables, of course, are in prime seating territory. If tickets for your event usually sell for $200 each, a VIP table for 10 could sell for $2500 dollars.
By letting your guests feel the love through creativity and smart planning, you will see that your tiny budget can make a mighty impact with your guests.