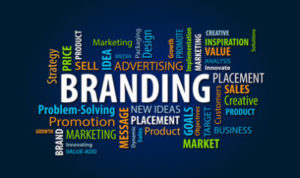 Nothing makes an event look more impressive than great branding. Large nonprofits spend a small fortune on graphic artists and printers for their logos, promotional materials and program booklets.
The good news for small-shop nonprofits is that creating your event's branding can be done on a shoestring. The key is knowing what resources are available to help you get the look and feel you want for your fundraiser.
Start out by creating an event logo. If you aren't handy with a graphics program you can go on pay-per-image sites like Fotalia and choose a beautiful graphic which can be used in your logo. Simply add your event and organization title below the graphic, and you have a professional-looking logo!
Next, use your logo and its' colors as an inspiration for your decor. Simply upgrading table linens from white to one of your event's colors can really make your branding stand out.
Large posters are important elements in events as they are used to direct guests to auctions and inform them of your event's program. They are also effective tools for promoting your organization's mission when strategically placed around the venue.
Use your logo and colors to create eye-catching posters. If you don't currently use a graphics program, check out Canva where you can make professional-quality designs for posters and other collateral material. You can do a free trial or sign up for a monthly subscription – it is well worth it!
And, when those beautiful posters are ready to be printed, consider having them printed at Walgreens (yes, I said Walgreens!!!) where you can place your order for posters online and they are usually ready for pick up within an hour. If you don't live close to one of their stores then the items can be mailed directly to you. Their posters are half the cost of some of the more well-known local printers and the quality of their work is excellent.
If your guests are seated at tables, create printed inserts for the napkins which welcome guests to the event and promote your organization's mission. A great resource is GotPrint.Com whose rack card is the perfect size to slip into a napkin.  I like to have a welcome message on the front of the card and the organization's mission outlined on the back. You can print several hundred of these cards for about $100 and guests are always impressed by that personal touch.
Don't forget that you can use your branding to identify event staff with t-shirts and hats. Your guests appreciate easily-identified staffers and volunteers who are able to answer their questions and point them in the right direction. The investment in branded merchandise is well worth it as the items are great "thank you" take-away gifts to those who helped make your event such a great success. Check out the selection at sites like Boosters.com where there are great ideas for taking your event marketing a step further.
Want more tips on how to brand your event like a professional? Give me a buzz at aj@queenbeefundraising.com and let me know how I can help.
Also, if you are interested in getting access to our vault of Timelines and Templates that you can customize for your own special event, click here.
Happy planning!